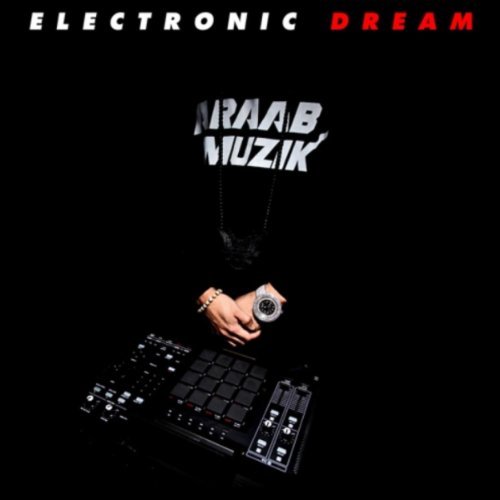 I've told a few friends that my favourite musical instrument is the drum machine, only to be faced with dumbfounded looks or even derision. An artist like araabMUZIK, however, is exactly the kind to prove my point: one of the year's most interesting figures, he's slowly rising to prominence in the hip-hop world -- certainly beyond his original Dipset associations -- but has also become a sort of indie darling, though his aesthetic incites as much frothing rage amongst the musical elite as it does wagging praise. His solo album Electronic Dream was an instant earworm and a consummately guilty pleasure, taking entire trance songs and demolishing them with his MPC drum machine -- it was cheap, way too easy, and way too fucking effective.
For me, anyway, Electronic Dream has managed to firmly stand its ground in the rushing dialogue of dance music, staying in rotation for months and months beyond so many of the year's mostly highly-touted albums. Something about the album's rigid but springy rhythms and the spongey decadence of its sample material is irresistible, exciting, and thrilling: pure musical indulgence, so-wrong-it's-right-kind-of thing.
Of course, it would be wrong to subtract araabMUZIK's own considerable talent from the equation: even when dealing with other people's material as on Electronic Dream, his ear pummeling hip-hop beats that nevertheless place as much emphasis on melody is rare in his world, and his emergence is well-timed, taking advantage of a mainstream rap scene obsessed with the shittiest of lowest common denominator music. Electronic Dream is merely a way to take this obsession to the extreme, literalizing the hints at trance that so many prominent producers, rappers, and singer succumb to now.
Beyond just his own productions -- whether Electronic Dream, the super fun Dipset Trance Party mixtapes, or his beats for numerous rappers -- araabMUZIK also has an engaging live show, where he goes nuts on an MPC and runs wider than the scope of Electronic Dream. Suffice it to say it needs to be seen to be appreciated, but below you'll find an extended clip to get the gist of the kind of drum machine heroics he supplies. I'm particularly excited for his show in Vancouver this weekend at the Electric Owl, where he'll be joined and well-matched by Fool's Gold associate Party Supplies, who has a similar mastery of the MPC but under a different umbrella than araabMUZIK's cotton candy melodic tendencies. Whatever your feelings on araabMUZIK, it's worth a gander. I'll be there.